Vinyl Graphics
Attract customers and maximize exposure with vinyl graphics. Eye catching vinyl graphics provide high impact advertising at affordable prices. We print on all substrates up to 72″. The installation and removal process is quick and easy.
Our solutions include: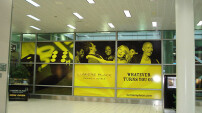 Storefront graphics grab the potential customer's attention and make them want to come inside. Transform your empty storefront into an attractive advertising space that enhances your brand or product with our custom window decals and graphics. Whether you are just looking to fill a few windows with advertising or you want your store front to take on a whole new look, we will handle your job in a timely and professional manner.
Storefront Graphics Benefits:
Cost savings — Window graphics are often less expensive than other forms of advertising, such as billboards.
Flexibility — Because window graphics are relatively inexpensive, you can change them frequently to promote specials or keep them up for longer periods of time depending on their content.
Shade and privacy — Depending on the type and size of window graphics you choose, they can provide some shade from sunlight, helping to keep cooling costs down in the summertime. They also provide some degree of privacy to your in-store shoppers.
Functionality — Window graphics can be used to guide customers and prospects to your parking facility, your front door, and your company's website.
The possibilities are endless with our highly customizable barricade graphics. We print on all substrates, these barricade graphics are ideal for transforming empty spaces into highly visual experiences.
Cover unsightly construction areas and turn bare exteriors into branding showcases. Build anticipation for new storefronts with beautifully printed shops, people, and landscapes. Barricade graphics can be applied indoors or outdoors, and is a great source of advertisement revenue.
Barricade Graphics Applications:
Construction sites — Display your image for advertising and marketing
Events — Get your message out to the crowd ahead of time
Retail — Let customers know you are opening a new store
Shopping malls — Cover plywood barricades with attractive graphics during store renovations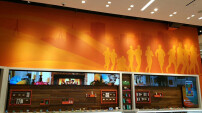 Customize your retail space, decorate any room, or brand your event with custom vinyl wall decals. Works on indoor and outdoor wall surfaces in any size. Our wall decals stick strong and are removable.
Our floor decals are easy-to-apply on all types of smooth surfaces. They stick strong but are still removable. Specially formulated with slip resistance so they can be walked on, our floor decals are also chemical and scuff resistant to help protect the image's inks.
Vinyl Graphics Installations